Cyclone Ockhi left a trail of destruction in the southern districts of Tamil Nadu, in December 2017 and hundreds of fishermen, who had gone out to the sea for fishing went missing and several more had lost their lives. In Kanyakumari, the situation was particularly worrisome and strong winds and heavy showers uprooted more than 2000 trees, snapped power lines and damaged settlements.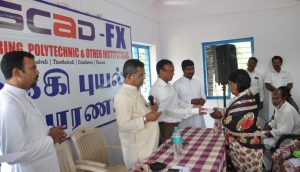 Further to the mishap, SCAD Nirman Chairman, Dr Cletus Babu, distributed economic assistance to the tune of Rs. 17 lakhs. He gave away Rs. 1 lakh each to the families of 17 fishermen who are either missing or dead in Cyclone Ockhi in Kanya Kumari district. Even as the government has conceded that eight are dead in the Ockhi related mishaps in the high seas, several of them were killed and SCAD Group organized a meeting at Colachel to distribute assistance to some of the affected families.
A group of students of SCAD Group of Institutions visited the distressed families after the assistances were handed over and interacted with the distressed kin. The families gratefully thanked Dr.S. Cletus Babu for his benevolence and timely help.