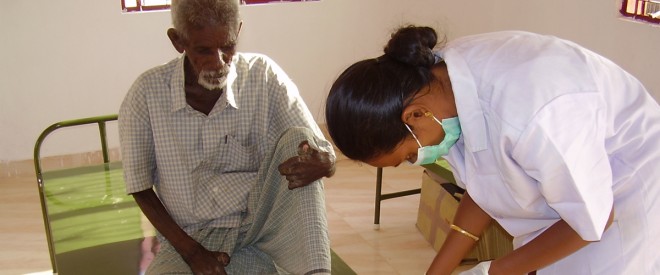 The forgotten people
SCAD-Nirman started to work with those suffering from leprosy in 1987. People affected with leprosy are socially stigmatised and considered to be untouchables. They are totally isolated by the general public due to their complexity of illness and deformed appearance. They are prevented from leading a normal life. So they are forced to beg near the railway stations, bus stations and temples.
A space to be
Leprosy sufferers need continuous treatment and care as most of the cases have incurable sores due to the chronic nature of their illness. The facilities available for these people are minimal. SCAD-Nirman started a small health centre in Sathyanagar near Pettai, Tirunelveli in 1990 which has been growing ever since. The health centre helps these people to access good and continuous medical support. A medical doctor and health worker is appointed to treat them for their related ailments.
SCAD-Nirman also provide supportive devices like wheel chairs and crutches that support their mobility. SCAD-Nirman took it as a challenge and pledged to provide shelter for these people. So far 54 permanent houses and 16 thatched houses have been built in a leprosy colony and these leprosy-affected people can live there with their family members.
Signs of success
Health facilities and housing conditions are improving. Children are studying in a SCAD-Nirman school at Pettai and three women's self help groups are actively functioning in the community. SCAD-Nirman is providing a monthly stipend for their maintenance and some of them have taken on new income generating activity, no longer meaning they have to beg on the streets.