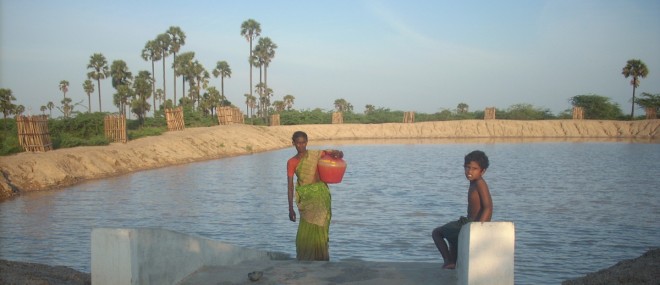 Working on ways to collect water in our dry climate
Collecting water is a woman's job. If water is scarce like it is in Tamil Nadu then it could be miles to the nearest source. You could spend most of your day fetching water for your family and livestock. Water collection is one of the most common reasons for keeping girls out of school from an early age.
We first supplied water to the most affected villages with water lorries. But the expense was high, and we couldn't reach as many people as we wanted. So, as a more sustainable measure, we started to restore and construct ooranies (water storage ponds) in these villages to store the rainwater when the monsoon starts.
Water inlets supply water at different locations and if the monsoon is good then water villages have supplies for up to eight months at a time. Around 140 ooranies have  have either been built or restored. Girls can stay at school for longer and women can work and earn an income instead.
Villagers have seen an increase in water table levels and reduction in salinity. Farmers are stocking some ooranies with freshwater fish to sell locally as nutritious food. Rainwater tanks are built in schools to provide students with drinking water. However, when drought is common, water supply is a constant concern.
We've built 150 rainwater tanks, mainly at schools, to help keep children and villages in constant supply especially during the arid times. Rainwater tanks take little investment but give lasting benefits.
Help us to build another 50 in the coming years. Get involved.