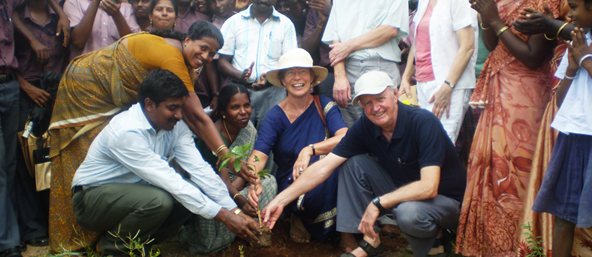 Plant a tree for $1.50
SCAD-Nirman is actively involved in the processes of increasing the Green Cover in the drought prone target villages. Trees are planted on the sides of the roads, around water catchment systems, in public places, around community centres and in schools. They are maintained by the local community. Seeds are dispersed in and around the bunds of Ooranies and water beds. Every year an average of 200,000 new trees are planted and about 60,000 seeds are sown.
SCAD-Nirman has three large nurseries at KVK, SCAD Cheranmahadevi campus, Vilathikulam and various small nurseries in the villages. Thousands of seedlings and saplings are supplied through these nurseries to the people. These trees increase green cover and provide fodder and fuels. In turn increasing trees brings more rainfall in these water scarce areas.
Watch our tree planting video here
Plant a tree for $1.50 (Rs.75/-)