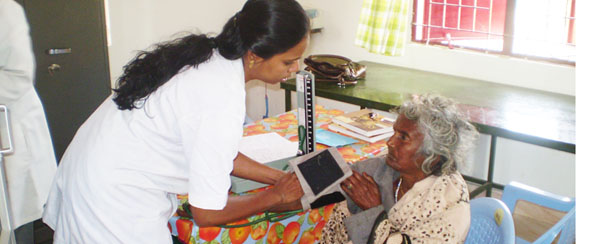 If you're sick in rural India, help is not close
Remote villages like those in Tamil Nadu are often days away from the nearest health centre. Many of the health problems we find in the villages can be prevented simply by sharing knowledge.
Our approach to community health is simple
Each village forms a health committee made up of representatives from all sections of the community. These people share their healthy learning with others in the village.
What we do
Our health work covers several criteria:
This includes:
– touring mobile eye camps and dental clinics. More than 10,000 cataract operations have taken place so far.
– promotion of health and hygiene in villages and schools
– promoting kitchen gardens by training women and sourcing seeds
– mother and baby health to help reduce infant and maternal mortality
– community-based rehabilitation (CBR) for families and children with disabilities.
– Care for children with disabilities – both at Ponnakudi and Cheranmahadevi – Anbu Illam – meaning House of Love in Tamil.