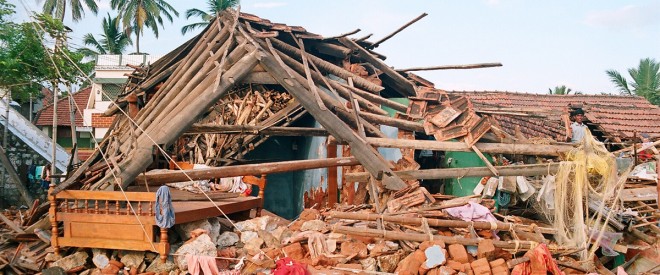 When crisis strikes
Immediately after the devastation wreaked by 2004's tsunami, SCAD-Nirman reacted, talking to the local community, and working to ensure that relief measures provided were relevant and helpful to the people. Disaster management services, such as counseling and medical care, were made available to those affected in the coastal villages of the Kanyakumari district of Tamil Nadu.
Creating a 'Plan B'
In the wake of this natural disaster, , SCAD-Nirman focused on the long-term needs of the communities involved. Much of this concerned re-establishing livelihoods, and finding alternatives to fishing for those who could not return to the seas. Our intention is to rebuild a devastated community's infrastructure and economy to a higher standard than before.
Tamil Nadu Flood
Unprecedented heavy monsoon rains lashed Tamil Nadu in December 2015, bringing normal life to a standstill. Over 190 people died and 2,500 villages were badly affected. In Cuddalore district, over 50 villages were flooded and hundreds of families spent weeks in relief camps. Crops, cattle, buildings and facilities were badly damaged. SCAD-Nirman supported victims in Cuddalore, Kanchipuram, Tiruvallur and Tuticorin districts. They made door-to-door assessments of villagers' needs, particularly women and children's and provided relief kits of 23 items including clothes, oil, soap, food and bedding to 1,325 families. 24 villages in Tuticorin district were affected by floods and received visits from a team of mobile health personnel, including counsellors and doctors. Nilavembu herbal medication was administered to increase resistance to infectious diseases. SCAD-Nirman also gave assistance to those whose homes had been completely destroyed. 50 families were given help to build shelters to replace their lost homes.