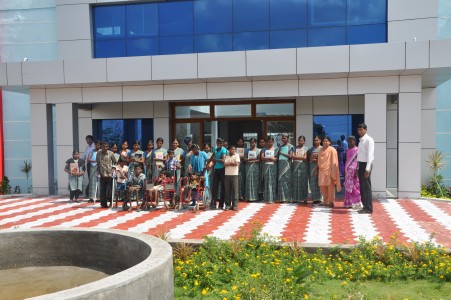 SCAD Medical and Disability Rehabilitation Centre
SCAD Medical and Disability Rehabilitation Centre that was supported by Gorta, has been offering community-based rehabilitation (CBR) to people with disabilities in ultra-poor communities of South India for thirty years. However there are still many problems that disabled people face; there is limited access to health care services, medical treatment is expensive and inaccessible, medical provision is not specialised or fit for purpose and there is a lack of knowledge about quality health care services for disabled people.
Rehabilitation of different kinds under a single roof in a multidisciplinary approach is very rare. The specialists are in far locations and patients have to travel extensively for therapies making it very expensive.
SCAD Medical and Disability Rehabilitation Centre offers holistic treatment under a single roof and is the first institute in southern Tamil Nadu to deliver these services to families who desperately need them.
The centre is equipped with facilities providing treatment, aids and appliances made of light weight materials to people with disabilities. The centre also provides special training and education and livelihoods, meaning disabled people grow in confidence and learn to believe in themselves.
The facilities include
Rehabilitation unit        
Every child on the programme follows an individually designed programme of treatment containing elements of physiotherapy, exercise, occupational therapy, speech therapy, massage, Hydro therapy, Sensory integration, sensory room and orthopedic aids made at SCAD Medical and Disability Rehabilitation Centre's specialized workshop.
Manufacturing Unit     
Our prosthetic unit helps differently abled people who have lost their limbs during accidents to undergo amputation surgeries. This unit offers support in making patients mobile with the help of artificial limbs
An operation theatre for corrective orthopaedic surgery, tendon transfer and general surgery
A fully equipped operation theatre to perform corrective orthopaedic surgery had not been available in this region and people had to rely on hospitals situated in metropolitan cities, far away from this region. Children who have had a minor stroke or have cerebral palsy require operations to release their muscles and tendons. This kind of mild surgeries will help children with disabilities to become more independent. SCAD Medical and Disability Rehabilitation Centre now has a fully fledged operation theatre to do all types of corrective orthopaedic surgery, tendon transfer and general surgery.
Diagnostic Lab
The diagnostic services are expensive and people are not able to get the results in time. Our patients benefit massively from our diagnostic lab as we offer accurate and reliable diagnostic testing.
Ambulance
SCAD offers ambulance services to or from a hospital, critical access hospital, or skilled nursing facility. One can get emergency ambulance transportation during sudden medical emergency or when health is in serious danger like when one is in shock, unconscious, bleeding heavily or some serious medical condition or when one needs skilled medical treatment during transportation and can't be safely transported by other means. Ambulance facilities also caters to the needs of the differently abled who suffer severe medical emergencies and need urgent critical care. People living in villages are also able to access SCAD Medical and Rehabilitation Centre during times of emergency.
Pharmacy         
Started with the express purpose of making it safer, convenient & affordable for patients to purchase medicines, our pharmacy sources and sells only reputable medicines from the most trusted manufacturers and their direct authorized representatives. Our pharmacy has made healthcare delivery more customer centric and offer a wide selection of quality genuine medicines, stored under appropriate storage conditions. Equipped with air conditioners and refrigeration units we ensure that medicines stay factory-fresh and work as expected. Trained and experienced pharmacists who ensure the right medication is dispensed and are able to answer queries appropriately have been employed. Everyday household items like soaps, shampoos, and cleaners are also available at best market prices.
Facilities yet to be provided at the SCAD Medical and Rehabilitation Centre:
To make the centre more effective for thousands of people in this region we further need another ambulance and equipments for CT Brain; MRI Brain Screening; Doppler Carotid/ vertebral/ limb etc., Electroencephalograph (EEG), ECG, Echocardiograph, Mammogram, and the like.
We have a clear vision but we need your help to achieve it. Are you willing to support disabled people in India? If so please contact us at scb_scad@yahoo.com