55 farmers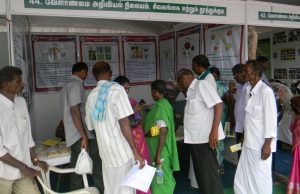 and Board of Directors (BoDs) from 3 Farmer Producer Companies (FPCs) were taken to Erode KVK and Tamil Nadu Agriculture University (TNAU), Coimbatore, on 9th Feb 2018. The journey started from Kootampuli at 8.00 pm on 8th Feb 2018 and then at Thoothukudi bus stand, the farmers from Athimarapatty region joined us. Soon after, 18 farmers were picked up from Vilathikulam and after an overnight journey the bus reached Gobichettipalayam around 5.00 a.m. The Farmers took bath in the river canal after which they reached KVK premises by 7.30 a.m.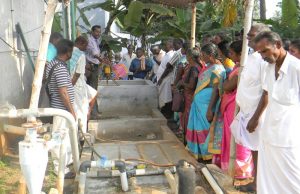 The KVK Farm Manager, Mr. Thirumoorthy, explained the various model units available at their KVK, like Organic liquid manure preparation unit, Telescopic pandal, Vertical gardening, Hydroponic fodder cultivation, Azolla, Slatted floor goat rearing, Artificial hatching of eggs, Desi poultry rearing and the like. Then the touring farmers were taken to the Kazhani FPC sales outlet. There the CEO of Kazhani FPC explained about the various activities of their FPC and its business plan. The Farmers asked several questions about the functioning and funding supports received by the FPC and the various services rendered by the FPC to its members.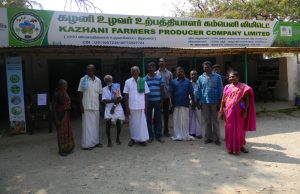 The farmers were then taken to Coimbatore TNAU Farmers' Day programme, where they visited various exhibition stalls specially organized for the occasion. There the farmers learned about various new implementations, seed varieties and pest and diseases control measures. At around 9 p.m. the farmers started their return journey from Coimbatore and reached Thoothukudi the following morning around 7 o' clock.
The touring farmers were accompanied by Mr. Murugan, SMS Agronomy, and Mr. Rajeshwaran. This exposure tour stimulated the farmers to adopt various technologies that they saw and learned by first-hand information. The farmers expressed their sincere gratitude to SCAD and for the financial support rendered by NABARD and SCAD KVK.