The Stakeholders of Jeevika Trust from Odisha, Naamakkal, Trichy, Madurai and Tirunelveli attended the tenth JT workshop for three days from 12th to 14th March 2018 at SCAD Seminar Hall, Cheranmahadevi. Ms Priya Ananth, Consultant – India, Jeevika Trust conducted the workshop and read out a welcome letter from Mr Andrew Redpath and Ms Christine to the partners of Jeevika Trust, expressing their inability to attend the workshop and their expectations on the Smart Village concept. The participants Mrs & Mr Manu – Jeevan Rekha Foundation, Odisha; Ms sivagamavalli and Mr Raguvaran – WORD, Naamakkal; Mr P. Peter – Mithra Foundation, Trichy; Mr Amalraj and his son – Mercy Foundation, Madurai; and Mr Ananth, Mr Charles, Dr Srinivasan, Mr Ratnavel, Mr Sundar, Ms Seema and Ms Beena Machado – SCAD Nirman, introduced themselves.
Short films on Smart Villages were screened as well as a power point presentation by Ms Priya Ananth besides two videos on Rudi and SEWA followed by a discussion on the same. The Jeevika Trust partners shared the PRAs of their respective identified village mentioning of the issues they would like to address or smart concepts they would like introduce in their proposed model village. Negotiables and non-negotiables were also dealt with. Along with Ms Priya, SCAD Project Director, Mr K Ananth, also facilitated at the Workshop, while Mr Charles, SCAD Programme Manager, presented a brief video on SCAD activities and Dr Srinivasan, PC SCAD-KVK, briefed on KVK activities as well as on a successful case study of an organic farmer. Towards the end of the first day workshop, there was a Skype conversation with Ms Judith Crossland, U.K., a real 'smart' workshop, indeed!
The SV concept resonates with the Jeevika Trust's vision embracing Schumacher's concept. So what does SMART Village need? Reflecting on Self-reliant Manpower Apt Rural Technology, Jeevika Trust model was screened for the benefit of the participants:
| | | |
| --- | --- | --- |
| S | Social, Skilled and Simple | Zero tolerance for discrimination; everyone is literate and simple in their living |
| M | Moral, Methodical and Modern | Moral values of Gandhi, methodical in their thinking and execution, and modern in their approach |
| A | Aware, Adaptive and Adjusting | High level of awareness on issues, adaptive and adjust to changing environments |
| R | Responsive and Ready | Responsive to the collective wisdom of community, ready to be self reliant and self sufficient |
| T | Techno savvy and Transparent | Techno savvy for Information Technology and mobile usage, transparent in sharing information and providing services |
Day two was a visit to Thiruvankadu, a model village, about which the members were highly impressed and appreciative of. Post lunch the members visited a Farmer Producer Council (FPC) and learnt of the way they work.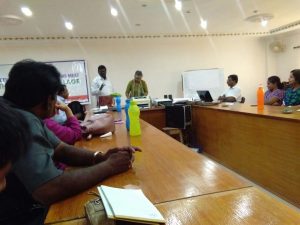 Day three began with a Reflection on the previous day's visit to Thiruvankadu, in which the participants cited their observation of People's power/ Unity in Diversity/ Ability to Attract Resources/ Self-reliance/ Change from within/ People being Smart, flexiblity, informed, capable, capacitated, and having an attitude/ promoting people's organisation, lobbying with the government, media, elected representatives, integrated farming, etc. There was a group activity on working out a plan of action based on JT priorities of livelihood/ agriculture/ skill development; water and sanitation; health and hygiene; human rights/ WDC/ strengthening of people's organisation with technology and gender as cross cutting themes, which was later presented to the gathering. In a nutshell, technology, village resource centre, Whatsapp group, skill development, documentation, and disposal of waste were stressed upon.
Before winding up, Ms Priya Ananth thanked SCAD for the support extended in conducting the JT Stakholder workshop and reiterated that the participants should become more tech savvy and be connected on Facebook, Twitter, Instagram, and have a blog as well, as JT, and have something interesting and innovative and package products attractively as seen in the Rudi video.