vzw SOS ZOUTMIJNKINDEREN INDIA (founded in 1998) is a charity organization in Belgium, which supports SCAD to improve the life circumstances of the very poorest vulnerable children (including the differently abled children) and women in SCAD adopted villages.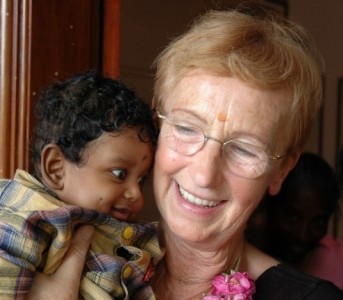 When Mrs. Irena Vanderjeugt traveled to India in 1989, she was strongly impressed by the work done by Mr. Cletus Babu and Mrs. Amali, for the most-disadvantaged and outcasts. Mr. Babu took her to the saltpans, where men and women lived and worked in terrible circumstances while their children didn't receive any school education and had to fill salt bags all day. Mr. Babu asked her explicitly and constantly to search for sponsors so that these children could nevertheless receive some education. Back in Belgium, Irene and some fellow-inspirers set up vzw SOS Zoutmijnkinderen INDIA. In a short time she succeeded in enthusing hundreds of people for the project: adoption of a saltpan child so that it can get school education.
The focus has gradually shifted to education and health care for all children in the SCAD region. A new important challenge is to empower also the thousands of children and youngsters with disability and their families in the adopted villages by SCAD. Next to this, renovation of the existing schools, the provision of potable water and the availability of toilets in the schools, is still a major concern.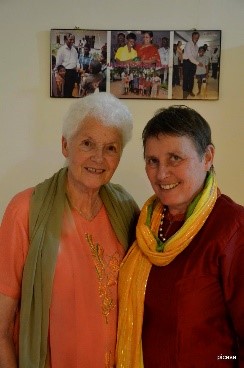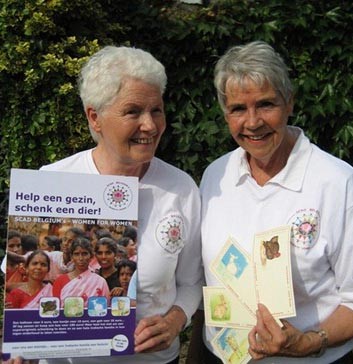 In 2009 our non-profit association got a daughter: SCAD Belgium's Women to women was started and inspired by Mrs. Kiki Pauwels-Braet and Mrs. Kiane Van Lindt-Braet. They designed the idea to create a solidarity chain between women in Belgium and the women in Tamil Nadu supported by SCAD.
On January 1st, 2016 Mrs. Marie Ooms takes over the torch from Mrs. Kiki Pauwels-Braet.
Mrs. Marjolijn Vergote, the coordinator of the cooperation Dienstencentrum GID(t)S-SCAD (www.gidts.be) worked several periods as volunteer in SCAD. Her main focus was on exchange of know-how, testing and treatment of children and adults with a disability.
On the unexpected request to take over the presidency of vzw SOS Zoutmijnkinderen INDIA, she said "YES".
The life giving work of my bosom friend Irene and her inspired Board of Trustees must be continued. I have seen the life circumstances of the extremely poor families in the remote villages with my own eyes. I can't remain passive. I also don't want to disappoint Dr. Cletus, Mrs. Amali and the entire SCAD team, who – with the support they receive – realize exceptional valuable and sustainable projects. Love and care for children, helping to develop the strengths and talents they have in them, and standing up for their rights: all this fascinates me…exactly the same as what SOS Zoutmijnkinderen INDIA and SCAD does.
On June 16th, 2015 the torch transfer of Presidency happened.
A strong team with Board Trustees of the very beginning and new members represent the operation of vzw SOS Zoutmijnkinderen INDIA.
Dr. Cletus Babu, Founder Chairman, SCAD – Tirunelveli, Tamil Nadu is member of the General Assembly of vzw SOS Zoutmijnkinderen INDIA.

We are very grateful to a large group of loyal sponsors (in particular, the Province of West-Flanders, Primary and Secondary Schools, Service Clubs, free gift benefactors). Thanks to their generous support, SCAD can realize an important improvement in the life circumstances of thousands of children and women in the South of Tamil Nadu.
Website Link : www.zoutmijnkinderen.be